HALLELUJAHBELT PVC rough top conveyor belt
With advanced coating machine and other excellent facilities, we are professionally producing PVC&PU,PE light conveyor belts, timing belt, flat belt, plastic modular belt and pvc elevator belt, which are extremely suitable for light industry such as beer industry, paper making industry, food industry, textile industry,bulk material handling industry etc.
PVC PU PE 
This light-duty conveyor belt takes braided fabric made of polyester threads that has undergone special technical treatment as the carrier framework.One or both sides are coated with rubber, PVC,PU or PE.It features great strength,little elongation or extension, good bending and twisting ability,stable running,and long service life.
 PU conveyor belt  
PU conveyor belt has the common traits of high tensile strength,good bending,lightness,thinness and toughness. It also has the outstanding traits of anti-germ,wear-resistance,oil-resistance,nonpoisonous and sanitary, and easy to clean.All of these conform to the management requirement of conveying non-packed food.
PE conveyor belt 
PE conveyor belt has the common traits of high tensile strength,good bending,and stable running.It is also nonpoisonous and sanitary,easy to clean,and has smooth surface.It can touch with foo directly.It is the ideal matching equipment of deep-processing industry for tobacco,food,meat and fishery,fruit and vegetable.
2.Specification of PVC rough top conveyor belt:
Conveyor Belts: You Can Buy Various High Quality PVC rough top conveyor belt from China Manufacturer
HALLELUJAHBELT company, and we are the best rough top conveyor belt Supplier and pu/pvc conveyor belt Manufacturer in China.
3.Parameters for HALLELUJAHBELT PVC rough top conveyor belt: 1mm-15mm PVC Conveyor Belt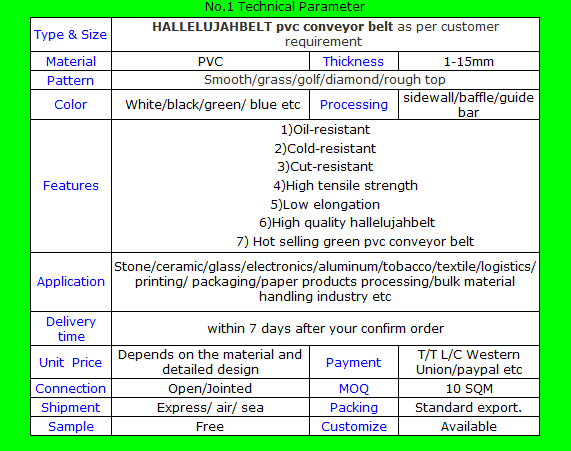 4. Belt Accessories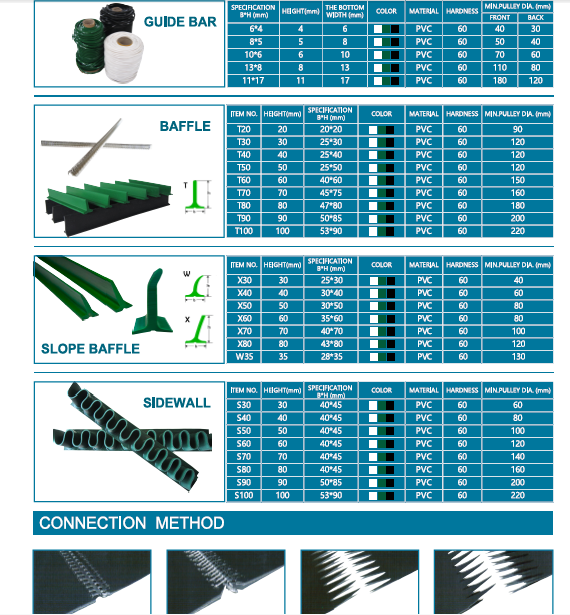 5.Belt Patterns