HALLELUJAHBELT Plastic Inductive Elevator Bucket(HL Type)
With advanced coating machine and other excellent facilities, we are professionally producing PVC&PU,PE light conveyor belts, timing belt, flat belt, plastic modular belt, pvc elevator belt and plastic elevator buckets, which are extremely suitable for light industry such as beer industry,robotics industry,ceramic industry,paper making industry, food industry, textile industry,bulk material handling industry etc.
Specification of Plastic Inductive Elevator Bucket:
Elevator bucket: You Can Buy Various High Quality Plastic Inductive Elevator Bucket for Grain elevator from China Manufacturer
HALLELUJAHBELT company, and we are the best Plastic Inductive Elevator Bucket Supplier and HL type Plastic Inductive Elevator Bucket for Grain elevator Manufacturer in China.
Material: HDPE/NYLON/UHMWPE/PU
Features:
Specially designed for chain conveyors with horizontal product transmission. 

Commonly used where there is a high demand for low damage to products where conventional elevator will not work or where there will be dificulties with loading and discharge of products.

Ideal for handling grains, feeds, fertilizers, seeds, salt and chemicals, etc 

High impact, abrasion resistance, no-corrosion, smooth surface, FDA Food proved

High quality hallelujahbelt Plastic Inductive Elevator Bucket

keyword:HL type Plastic Inductive Elevator Bucket

Customize: Available
Using Recommendations
a) Dimension "G" is designed by referring to the conveyor chain pitch in the chain conveyors

 b) Consult our engineer for the instaHLation of HL buckets as various dimensions and figures are needed to be considered
Parameters for HALLELUJAHBELT Inductive Elevator Bucket for Bucket elevator
Elevator Buckets Type: 1.D type Elevator Bucket  2.S type Elevator Bucket 3.DS type Elevator Bucket 4.DQ type Elevator Bucket 5.DM type Elevator Bucket(Rice Milling Bucket) 6.DG type Elevator Bucket 7.DH type Elevator Bucket(Drying Bucket) 8.DW type Elevator Bucket 9.DL type Elevator Bucket 10. Steel Elevator Bucket 11.HL Type Inductive Elevator Bucket
Technical Specifications: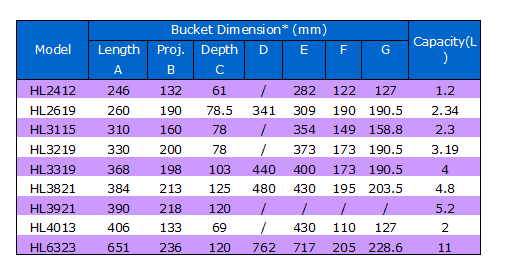 1.How to choose elevator bucket type?
          a)Elevator line speed ≤2.5m/s,gravity discharge and mixed discharge—-Recommend D type or DS type(Deep bottom)

          b)Elevator line speed ≤3.5m/s,high speed centrifugal discharge—-Recommend DQ type(Shallow bottom)
2.Measure an elevator bucket & product usage recommendations
Note :
 AA type bucket sizes are based on Nylon. All other type of bucket sizes are based on HDPE. Nylon and PUbucket size are approximately 2% larger than HDPE material bucket.

 Mounting hole dimensions of DM, EU type bucket are strictly according to our size tables, and we can customize mounting holes for all other types of buckets.

 Recommended bucket spacing for DM type bucket is C+2mm; all other bucket types are C+10mm. Actual spacing may adjust then.

For engineering purposes, HALLELUJAHBELT recommends using Water Level + 10% for applicable designing capacity.
3. Elevator bucket material options

HDPE: Tough and lexible, suitable for handling grains, foodstuffs, and other products with no sharp edges and material that has a bulk density of less than1g/cm³ .

Nylon: High impact and abrasion resistance, better heat resistance and are well suited for handling hot, abrasive and sticky products.

UHMWPE: Extremely abrasion resistance, corrosion resistant, impact absorbing properties, low temperature resistant, sanitary (FDA approved), Non-caking and sticking, now water absorption, light weight properties.Higher cost performance products.

PU: Extremely abrasion resistance, tough and lexible, and are suitable for handling sharp, cutting and sticky products.

Mild Steel: General purpose, long life, well suited to agricultural and industrial products.

Stainless Steel: Food grade, corrosive resistance, suitable for food and high temperature applications.